Description
INTENDED USE
Vacuum aggregates are intended for use in central vacuum installations, in particular in the health service services objects such as hospitals, clinics, out-patient clinics, health centers, emergency medical aid stations etc. Vacuum aggregates can also be used in all other central vacuum plants in industry; in such case the anti-bacterial filters are replaced with standard air filters.
ADVANTAGES
low-noise operation,
no special requirements for rooms in where the units are installed,
no foundation is required,
the unit operates correctly during long vacuum-drawing operation,
wide range of vacuum thresholds adjustment,
the units can be linked in batteries to operate in parallel,
tanks can be made of stainless steel,
the observation vessel can be cleaned without any need to switch the unit off,
the anti-bacterial filters can be replaced without any need to switch the unit off,
a microprocessor controller with vacuum measurement allows for unit remote control operation,
compact design allows for the unit to be transported through standard door openings,
modern and compact design of vacuum pumps fitted in the unit.
ELECTRONIC CONTROLLER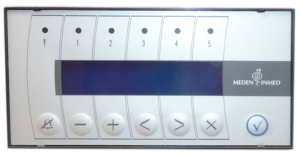 programming of vacuum thresholds in the vacuum installation (0 ÷ 98%)
maintaining the vacuum at the pre-set level
continuous vacuum measurement within the range of 1000 ÷ 1 mbar
time of pump operation recording
electric supply phase correctness control
assuring "circular" pump operation cycle
automatic pump switching in case of higher vacuum demand
indication of excess the alarm pressure level
indication of breakdown, if any
protected against inputting of any undesirable settings changes
can be connected to computer monitoring
keyboard liquid-proof protection – IP67 class